Drip Planning Guide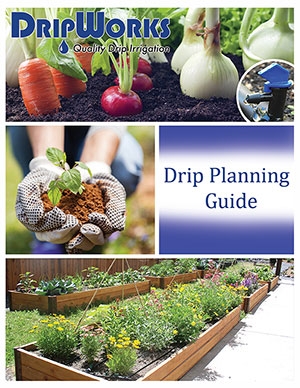 Drip irrigation offers many benefits. Because it places a precise amount of water where you want it, it saves water and money while discouraging the growth of weeds.
Although this method of irrigation has been in use for thousands of years and is used on many farms, vineyards and orchards as well as home gardens and landscapes today, drip irrigation remains a mystery to many. Here at DripWorks, we commonly hear questions like, what is drip irrigation or how does drip irrigation work? Customers often ask us questions about drip irrigation design layout and how to install drip irrigation.
That is why we have created our Drip Irrigation Planning Guide. It will tell you everything you ever wanted to know about drip irrigation but didn't know who to ask.
Download the Drip Planning Guide
Tips in our Drip Irrigation Planning Guide
After providing a brief history of drip irrigation, this guide defines the basic terms for the equipment used in this type of irrigation in a helpful glossary. For those interested in DIY drip irrigation, it includes extensive, easy-to-follow information on installing drip irrigation. The section on drip irrigation setup includes installation tips that will help take the headaches and frustration out of setting up your system if you have never done it before — or if you have done it but need a refresher.
In this guide, you'll find advice on everything from setting up a drip irrigation system for raised beds to creating a greenhouse overhead misting setup. There are also sections on adding fertilizer injector systems to your drip irrigation layout for "fertigation" and installing timers to provide fully automatic watering.
Careful planning and quality products are the keys to a successful drip irrigation setup. This guide provides all the information you'll need in a very well-written and laid-out format.
If you have questions, we are here to help. Call or email us for expert advice from our friendly staff.