Hemp
Although it was made illegal for most people to grow for many years, hemp has a long and proud history. It has been used worldwide for centuries to make rope, fiber and other industrial products for a variety of uses and customers, including the U.S. Navy. The cannabinoid, or CBD, produced by hemp has been taken by patients for thousands of years to help manage pain and for many other uses, such as assisting with symptoms associated with anxiety and depression. The hemp irrigation and growing selection at DripWorks is filled with carefully chosen hemp farming equipment and supplies to help you reach your harvest goals.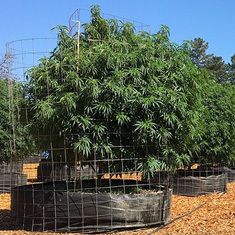 Specifics of Hemp Farming
Thanks to the Farm Bill passed by the U.S. Congress in 2018, growing hemp for CBD and other uses is now perfectly legal in the United States. According to some estimates, hemp crops can yield monetary returns of up to $30,000 per acre. By 2022, total CBD sales could even amount to $22 billion.
Like marijuana, hemp is easy to grow, making it a lucrative cash crop and convenient for personal use too. But marijuana produces a higher amount of THC, from 5% to 30%, to produce the high that recreational users seek. Hemp has a much lower amount of THC, ideally below 0.3% (the federal limit for legal growing). But hemp has a generous amount of CBD that medical users seek for their health.
Hemp Planting Equipment & Techniques
Although hemp grows like a weed, you will want to give each plant TLC and careful attention whether you are growing it for commercial purposes or personal use. To ensure a healthy crop, use the best hemp planting equipment and hemp farming equipment you can find.
For best results, growing hemp for CBD requires ample amounts of water during its life cycle, which typically runs about four months. Here at DripWorks, we can help you achieve success with our selection of hemp irrigation systems and products. A well-planned drip irrigation system will ensure each plant gets exactly the right amount of water it needs at exactly the right time.
We have drip irrigation products for hemp to grow anything from a single plant for home use to large commercial operations. These systems offer a smart, labor-saving alternative to hand watering. They can also be automated to irrigate your hemp.
Drip irrigation products save water as compared to sprinklers and other irrigation methods, which is good news for the environment and your wallet.
Read our blog post to learn more about growing hemp with drip irrigation.